Press release
July 18, 2017
BüttonPublish, tomorrow's editorial for digital publishing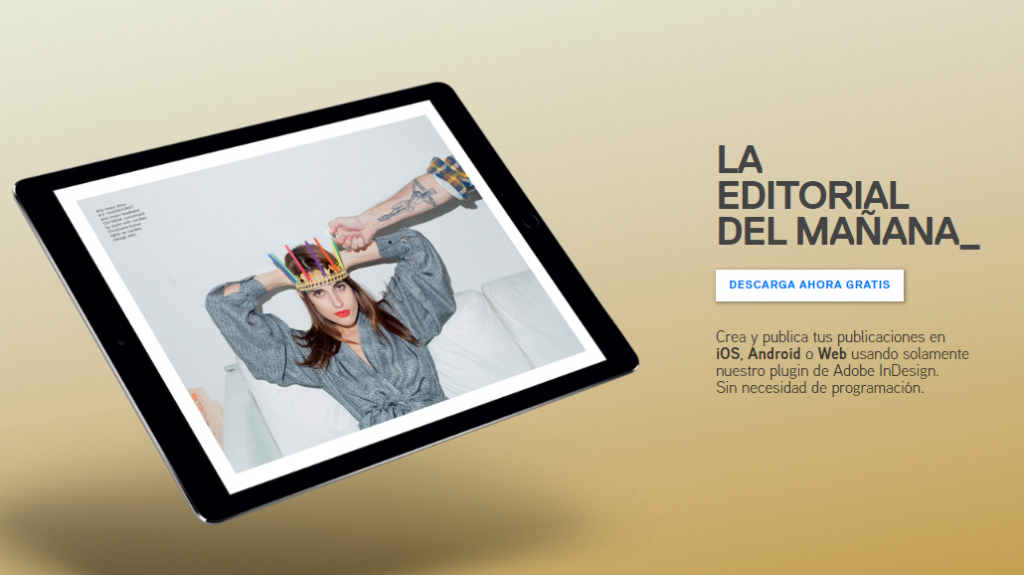 Developing a digital editorial project with the aim of achieving a good user experience – mainly thanks to interactivity – is a hard work where programming seems to be essential.
Nowadays, digital formats are more and more common and it's easy watching content in our Tablet, laptop or smartphone.
Facing this new context in the editorial world, new options of software to create interactive publications are appearing. This way, we can take profit of technology to give life to content that was shown in paper in a static way before.
This is the case of BüttonPublish, a digital publishing tool designed as a plugin for Indesign software that allows us to design and make each of the pages and sections of our project interactive.
Create easy, powerful and interactive designs without programming
BüttonPublish, digital publishing created by and for designers, and for those who want to give life to their services and projects through a magazine or a digital catalogue. This software makes easier designing editorial projects thanks to its drag-and-drop and without need of programming. That's right: 100% interactivity and 0% programming.
This way, we can focus our efforts in creativity and we don't have to be constantly thinking about how to make our designs animated. We can create great effects such as slides, links to videos and audios (wouldn't be awesome being able to listen the songs recommended in the music section of a magazine?), pop-ups, animations and effects such as parallax, among others. You only have to download the manual, try out and see your publication becoming interactive.
The plugin also has a preview mode which displays in real time the content we're creating, so when our project is ready, we can see our creations in Android and iOs devices or in our browser. Yes, you heard right: your Project Will become in a real app that everybody will be able to download. Therefore, the reach of your editorial will be huge.
An affordable tool
With Bütton you only pay when you launch your publications; the plugin download, the time you need to use it and all the previous work is for free.
This way, a tool that could imply a high cost because of its wonderful functionalities and capacities, is affordable for small and medium publishers.
You can hire the plan that better suits your needs and if you need some help to design, search a more tailored plan, upload the app to different platforms (Google Play, Apple Store or Kindle Store) or some support material, they will be happy to help you!
Be part of the digital publication community
Several publishers are already using Bütton's tool to adapt their publications to this new way of reading and interacting with the content. They are talking the same language that the new generations and new users' needs.
METAL fashion and trends magazine, PORSCHE I_News publications, Muster, MTBPro magazine, Enduro… are good examples of editors that have recently included this innovation to their projects in order to differentiate themselves from competitors.
Publishers from companies such as Torres, Danone, Esade, Lexus, Opel, Banc Sabadell, Iberital, and son on, already enjoy the advantages of having a professional digital publication: the advantages of counting on Büttonpublish.
Download BüttonPublish plugin and give life to your digital publications!